Letters of intent are due September 12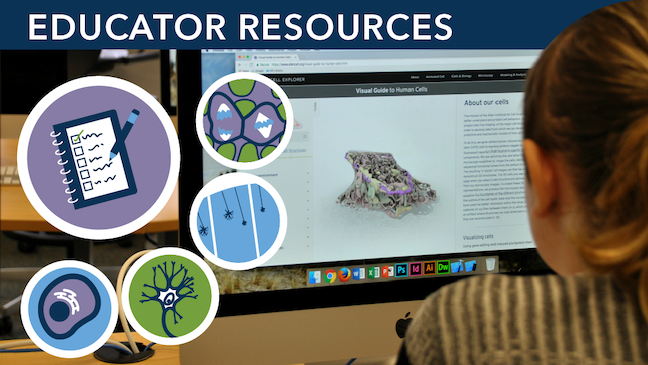 Teaching biology remotely this fall? Our free educator and data resources are available to help your students succeed. From turnkey lesson plans guiding your students through real experiments to webinars for educators and classes, we're here to bring the lab to you wherever you are.

Behind the Scenes of Science: Webinars for students
In our new webinar series for educators and students, go behind the scenes of science to meet the professionals who make our research possible and get a glimpse of the many different careers in science. These free events are open to whole classes of students in the format of an interview with our staff and interactive discussion where students can ask questions and learn about what it takes to do cutting-edge research.

The Virtual Science Lab: Webinars for educators
We've shared a variety of lesson plans and other resources for educators to get started using our open data resources in their class. In these webinars, Allen Institute research staff introduce the science behind the lesson and you'll be walked through a demonstration of how to apply the lesson in your class.

Meet us at the virtual WSTA-OSTA conference
The Allen Institute is participating in the joint virtual Washington-Oregon Science Teachers Association conference on October 9-10, 2020. Find resources at virtual booth #23 and meet us at the exhibit help desk. On Saturday, October 10, attend Dr. Kaitlyn Casimo's talk introducing Allen Institute resources for educators and receive STEM clock hours.

Educator favorite: Visual Guide to Human Cells
The Visual Guide to Human Cells is a favorite resource among educators. Designed for students, it enables 3D exploration of cell structures and systems in an engaging, interactive model with explanations geared towards the introductory level.