Complete our education survey, see new curriculum units, and learn about 2023 internships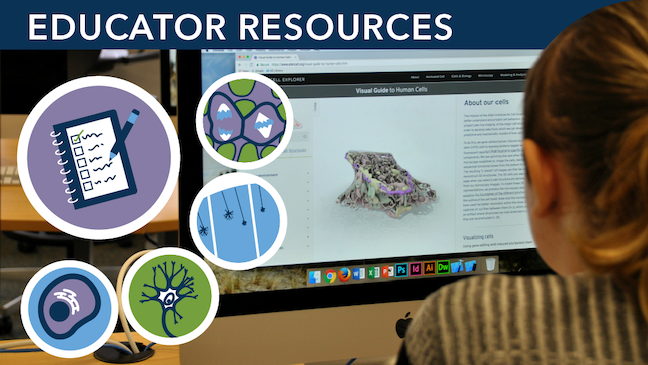 What is on your wish list for Allen Institute education resources? Let us know!
The Allen Institute Education Program plans to expand its offerings in the coming year. We are seeking feedback from educators of grade levels through either a survey or a virtual interview. Whether or not you have used Allen Institute education resources, we want to hear from you.
Educators who complete the survey or the virtual interview will have the option of entering a drawing to win Allen Institute swag.
Interview: Speak with a member of the education program to answer a few questions about what resources/materials would be most helpful for you in your classroom. Email education@alleninstitute.org to let us know you are interested.

Cell Types, Health, and Disease: An Interdisciplinary Exploration of Alzheimer's Disease
The Allen Institute's education program just released a curriculum unit of four new lessons by our 2022 Education Program intern, Madison Meuler. In these lessons, students can explore biomedical ethics, transcriptomic data, and neuropathological images from our SEA-AD program in order to gain a deeper understanding of Alzheimer's disease.
---

New Release: Neurons Beyond the Textbook Webinar
Interested in showing your students what neurons look like outside of cartoon diagrams in textbooks? Check out the newly released Neurons: Beyond the Textbook webinar for educators. This webinar is a supplement to the Neurons: Beyond the Textbook lesson for students. The webinar walks you through the science behind the lesson while explaining how you can engage your students with the Allen Cell Types Database to conduct an interactive experiment.
---

Open data to support education
The Allen Institute's Kaitlyn Casimo, Ph.D., recently authored an article describing the power of open data in undergraduate classrooms in the Journal of Undergraduate Neuroscience Education.
---

Opportunity for students: Internships and Postbaccalaureate Program
In 2022, the Allen Institute hosted 23 students from universities across the United States for a 10-week summer internship, and welcomed our first Postbaccalaureate Program participants. Applications for the 2023 cohorts of both programs are due January 17, 2023. Eligibility, pay, specific projects, and FAQs are listed on the program page.
Internship and Postbaccalaureate programs information ►︎
---

Sneak peek: Allen Institute Teacher Academy, coming summer 2023
Do you teach high school biology, neuroscience, or a related subject? The Allen Institute will host a new teacher academy starting in summer 2023. Educators will have a chance to tour the Institute, meet Allen Institute scientists, and receive training on using the Allen Institute's open science in their classrooms. Applications will open in early spring.